Hi everyone, welcome back!
Watch part one here – there are lots more videos to watch further down the page!
Talk about it
How do you think Moses's mum felt when she put her baby in the river? And how did the Israelites feel being slaves? How did Moses feel when God spoke to him and told him to go to Pharaoh?
When have you felt scared or frightened? What helped you to feel less afraid? What helped Moses to feel less scared about talking to Pharaoh?
Remember it
There are a lot of scared people in today's story! Moses's mum was scared when she put Moses in the river, the Israelites were frightened of the Egyptians who were keeping them as slaves, Moses was afraid to talk to Pharaoh… But they learned to trust God. He had made promises to their family and even though they couldn't see how God was going to keep those promises, they knew he was bigger and more powerful than Pharaoh, and that he could do amazing things!
"When I am afraid, I will put my trust in you.
I praise God for what he has promised.
I trust in God, so why should I be afraid?"
Psalm 56:3&4
Pray
Tell God about the things that are making you feel afraid. Ask him to help you remember that he is always with you and that he loves you very much.
The next part of the story
The story of Moses takes up quite a big chunk of the Bible – his story starts in Exodus 2 and carries on through the books of Leviticus, Numbers and Deuteronomy! And his story is told alongside the story of all of the Israelite people, starting when they were slaves in Egypt and telling about how God rescued his people.
These videos tell just a part of the story covered in the bible.
The Passover tells us how God brought his people out of Egypt.
The Wilderness is where God's people lived for more than 40 years before they got to the land that God had promised them!
This video tells us about one of the times that God's people made a very bad decision while they were on their journey.
Talk about it (again)
What do we learn about Jesus from all these different parts of the story of Moses and the Israelites?
Things to do
This colouring page will help you remember the memory verse, and remind you to trust God when you are feeling afraid too!
There are lots of great activities by marymarthamama.com which are great for preschool kids, plus a couple (pyramid folding and basket weaving) for older children. Jump straight to the pack here.
Enjoy this wordsearch, with words all about when God spoke to Moses from a burning bush, or a burning bush dot to dot!
If you really love wordsearches, here's another one! This one is about God parting the Red sea.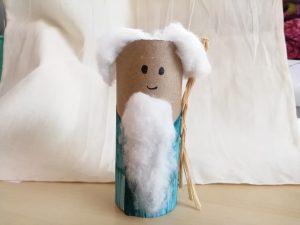 Make a Moses figure from a loo roll! If you don't have a loo roll, there's a version you can print here which has all the instructions you need.
And finally, a parting the Red Sea craft. Find printables and instructions here.