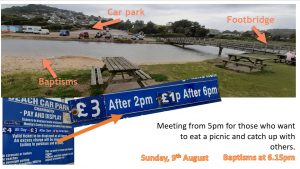 The whole church is welcome to join us to witness Sue and Sam baptism at Charmouth (Beach Car Park) on Sunday 9 August, gathering from 5pm for a 6.15pm start. To see more details, here is the Powerpoint which Nigel used in notices at the end of the ForeCast.
Please remember to observe all physical distancing, and hygiene rules, plus the dog-walking bylaws
If you are isolating, you could stay on the Car Park side of the Char
Do pray before you come, and ask God for a word of encouragement or a Scripture verse for Sue or Sam
You are free to walk Golden Cap, swim or chat after the baptisms, but the car park closes at 9pm
Toilets are a 100m walk from the car park entrance, approximately 200m from the baptism site – open until 8pm.
Tha car park charge is £3 before 6pm and after just £1. Remember to bring change as the car park machine will not accept cards.