Hi everyone! It's been great seeing some of the crafty things you have been making – these VE Day decorations are brilliant!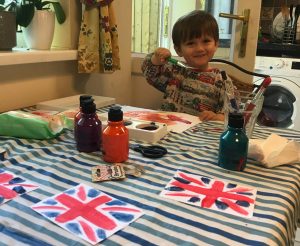 Last week we had a great time learning about Noah – and here he is, hard at work!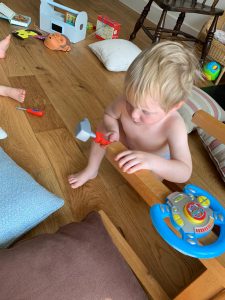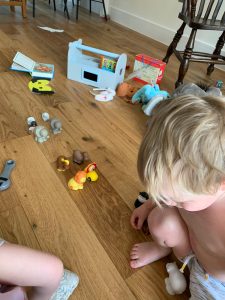 Today's story is all about Abraham and Sarah. There's a lot about Abraham in the bible, but the parts of his story we'll be looking at today can be found in Genesis 12:1-9, Genesis 15:1-6 and Genesis 21:1-7. Watch the video for the highlights! And don't forget to look out for the pictures that God gave Abraham to remind him of his promise…
Talk about it
I wonder how Abraham and Sarah felt while they were waiting for God to keep his promise.
Have you ever had to wait for something to happen? What was it? How did you feel while you were waiting? How do you think Abraham and Sarah felt while they were waiting for their baby to be born?
God made Abraham a promise, but Abraham thought it took a really long time for the promise to happen. What other things has God promised in the bible? Have all those things happened yet? Do you think they will happen?
Abraham trusted God, and we can trust him too. He has shown that he will always keep his promises.
What does it mean to trust someone? Who do you trust?
Remember it
"The Lord will keep all his promises;
    he is loyal to all he has made." Psalm 145:13
Print the memory verse on stars. See how quickly you can put it in the right order! Then say it a few times before you start to take away some of the words. Once you've remembered it, go and tell it to someone else in your family and see if you can help them to learn it too!
Pray
God promised Abraham not only that he would have lots of children, but that one day the rescuer (Jesus) would be part of his family. When we decide to follow Jesus he brings us into his family too – we become part of the promise that God made to Abraham! Spend some time today saying thank you to God
that he keeps his promises
that we can trust him
that we can be part of his family
Fun and games!
Try some of these things to help you remember today's story:
Make a tent! Send me a picture of your tent at rocksandtopz@forefront.org.uk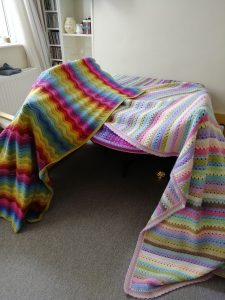 Print these stars. Use them to:
hang around your house as decorations to remind you that God keeps his promises. Hang them up individually or as a garland
draw around them with chalk, either on black paper or outside. If you draw them on the ground you could use them like hopscotch!
get someone to hide them around your house, then find them as quickly as you can
Make an obstacle course. Blindfold someone in your family and see if you can guide them past the obstacles. Do they trust you enough not to look where they're going?!
Print the colouring page from In My World which reminds us of three promises God made to Abraham.
Enjoy a whole host of crafts and games from Trueway Kids – aimed at under 5s, but older children might enjoy some of the crafts.
Have a great week and join us again next Sunday to find out about Abraham and Sarah's baby boy when he grew up!