Hi everyone! Hope you've all had a great week and have had a lot of fun with last week's activities! Let's start with a quick recap of the story of Abraham's family so far…
So let's take a proper look at the story of Joseph – this video is a really quick version, but you can find the whole story in Genesis, starting in chapter 37 and going on all the way to the end of the book in chapter 50!
Talk about it
Why didn't Joseph's brothers like him? How do you think Joseph felt when they threw him down a well and then sold him?
What were some of the other difficult things that happened to Joseph?
Joseph said to his brothers, "You intended to harm me, but God intended it all for good." What were some of the good things that happened?
This is not a story about a coat…
The verses I read were Genesis 45:5, 7&8 and Genesis 50:20.
Pray
Tell God about anything you're finding difficult at the moment. Thank him that he knows you and cares for you and can bring good things out of bad times.
Have some fun!
You can find the colouring page by Crafting the Word of God here, along with more colouring pages, jigsaw puzzles, a pharaoh's head dress and lots of other craft ideas to make!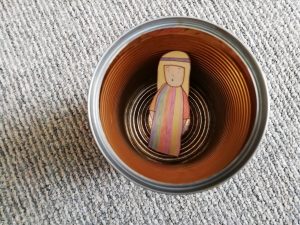 I printed these people to make my Throwing Joseph in a Well game. Choose one to colour in, then cut out and stick to a peg (or something similar) to give him a bit of weight. Then find a clean tin can, bowl, bucket or anything else that can be the well and see if you can throw Joseph in to it!
If you have 4 or more people in your family and you like card games, this Collect the Coats game looks like lots of fun!
Or how about a word search? If you get stuck, the answer page is there too!