Hello everyone!
This week our story starts with someone as a young boy of around eleven – the same age or a little older than you! His mother was called Hannah and for a long time she had no children. She prayed and prayed for a son and said she would give him into God's service if God answered her prayer. God did and Samuel was born! Plus she had another five children after that. Watch the video to find out about Samuel's story.
Isn't it interesting that to hear God's voice was rare in those days. Eli was teaching Samuel but God spoke to Samuel himself. Eli and his sons were doing things God wasn't happy with and he removed them and made Samuel a leader. We don't often hear an audible voice from God but we do still hear him. He can talk to us through the bible, through Sunday school, thoughts in our heads or things he can remind us of. Also by  hearing someone speak about Jesus from the bible or through songs. Lots of ways! What do we have to do? That's right – we need to listen and then act on what God says.
Watch the video below for some fun and a couple of games. BEFORE you start you will need to print off this picture of Samuel. Make sure you have something to lean on and some colouring pencils or felts ready. Also for the second game a scrap piece of paper and a pen. For both games you will need your listening ears!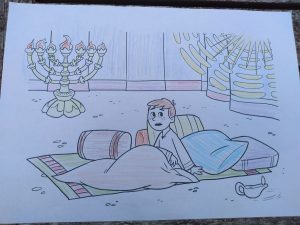 Did your colouring picture end up looking something like this? Well done if so!
Listening to God is really important. You don't have to wait till you are grown up to do it either! Samuel started early and did so all his life and he would tell the Israelites what God said too and helped them to do the right things.
Here is another listening game for you to play with your family. One of you will say a word like ear. Then the next person has to come up with a word that starts with the last letter of your word – eaR – so they might say Rainbow  – and the next person might say –
Watch and so on. See how many you can do.
If this is too hard for you maybe play a stamp your feet game. One person stamps their feet and you have to listen to how many times they stamp and then copy them.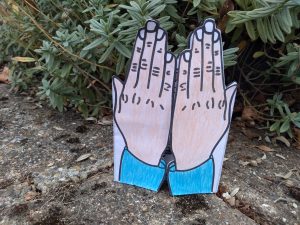 If you would like to make the craft of Hannah praying for a son (in our picture at the top of the page) and then having Samuel here is the template. Cut out the hands and stick them on the closed section.
Pray
Thank you God that you still speak to us today however young or old we are. Help us to listen and get to know you better. Amen