...in a time of challenge
Breaking news
ForeCast 29th November: Thank you for joining our ForeCast service as David led us in the second in the series on New Beginnings. Richard Coles spoke on the theme of A New Home. During the service we worshipped together, listened to the reading of the Scriptures and learned from Martyna and Allan as they share their experience of A New Home.
Our online worship library: We can't legally include other people's recordings in the ForeCast livestream; nor can we put up the words of songs. Each week, therefore, we are suggesting online music that you can enjoy before or after ForeCast. We have now created a page of these recommended songs.
Forecast rota: Forecast Planning (September-November 2020)
Young people: The Rocks & Topz team is providing delightful resources on this website for families with small children, and we are hearing that non-Church families are also taking advantage of the games, crafts, Bible stories and competitions on there. Each one is a post on the 'children' page. Why not let families in your neighbourhood know about it? Laura and Christine are also working on a virtual kids club and a youth group. If your young aren't part of our church children's clubs, but you'd like them to get connected to other children, contact us!
Jobs, employment and benefits: Citizen's Advice South Somerset are seeing clients one-to-one by appointments only, every Wednesday at Forefront Centre, To book appointment please call/text 07756716492. They have also produced two short films explaining benefits and employment matters during the current COVID-19 lockdown. If you  have questions about the often-confusing and fast-changing situation, here is their advice.
Adults with learning disabilites: There's an online service run suitable for everyone run by the Honiton Celebrate Together Team at St Paul's Honiton, led by Rev Ann Stuckey.  You will find resources for worship for all abilities, especially suitable for adults with learning difficulties.  The team is producing new videos regularly, so do check the site for the latest update.
Things to do: It's not only the children who should keep their minds occupied and update their skills. We can all do that! Why not catch up on any Sunday talks you've missed? There are more than 560 available on our Sermon Audio page. Or, refresh your memory about the month-long series on how to study the Bible using four different tools. Harry recommends the new crowdfunded TV series about the life of Jesus, The Chosen.
Flourishing despite Covid-19
Welcome to our COVID-19 response page. See the Breaking News column for details about the next ForeCast Sunday morning Livestream.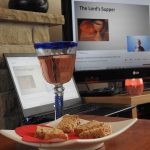 The Bible says, "spur one another on towards love and good deeds, not giving up meeting together, as some are in the habit of doing, but encouraging one another – and all the more as you see the Day approaching" (Heb 10:24-25).  Our goal, then, during the Covid-19 crisis, is to encourage one another, and to spur one another on to love and good deeds.
Government guidelines around social distancing are adhered to in the production of our Sunday ForeCasts. Various members of the congregation contribute each week, either live or by video. The recordings of each Sunday meeting are kept on Forefront's YouTube channel, in the ForeCast playlist. We continue to try new things in this unexpected season! New ideas are welcome. We include links to each video on the ForeCast and Sermon page, so we can continue getting access to the sermons and they can join the great library of devotionals and Bible exposition there.We are grateful to God for the means to do this.
Forefront life in lockdown - images from members showing their routines and occasions while we are apart
Forefront weekly life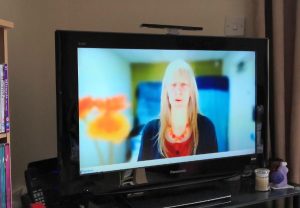 Contacting Forefront
For the Action Team (Martyna, Julie, Jane) call the new number, 9 am to  

1 pm,

01392 580021

- the number "follows" whoever is on duty. Out of hours, you can still try this number, or use the church contact list.
Skype them at <

Forefront Community Centre

>
email <

office@forefront.org.uk

>
Life Groups
Life Groups are not meeting physically, but they remain the heart of our church community and pastoral care. Some are using information technology to keep in touch (Skype, Teams etc), while others are ensuring their members get regular phone calls.
We are going to share the best new and creative ideas which each group comes up with, with all the others.  This includes buddy systems to ensure that those who self-isolate get regular contact. Let us know of any encouragements, successful interactions or outreach from your Life Group, and we'll share the news in our Sunday meetings.
Alpha has been interrupted, but members are keeping in touch as though they were a Life Group. We are looking at ways the course might continue virtually, but otherwise it will pick up again later.
Reach out to your neighbours
At the beginning of the year, God led us to declare a vision in which our homes would be mission stations in our neighbourhoods. It wasn't entirely clear to us how that was going to work – but it has become much more obvious now!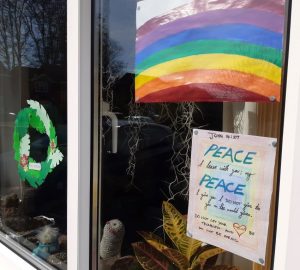 Members of Forefront have done an amazing job of reaching out to their neighbours, over and above the "official" pastoral visiting and Lord's Larder outreaches. Let's consider this part of our calling in this season. Do consider putting up hopeful messages in your windows - and be part of reclaiming the rainbow as a Christian symbol of hope. On a sunny day, get out into the garden and sing worship songs. Call your neighbours and tell them you'd like to pray for them. Offer to put them in touch with support if they have critical needs.
Forefront Centre
We are now open for Lord's Larder food bags collection (referrals only) and for any donations Monday, Tuesday, Thursday and Friday from 10.30am until 12.30pm only. Citizen's Advice South Somerset are using our premises on Wednesday to see their clients by appointment.
At all other times, the staff will work remotely. We aim to have someone contactable by phone, Skype or e-mail, Monday to Friday, 9am-1pm. (See 'Contacting Forefront', above.)
Pastoral support
Your Life Group leaders will be the first port of call for most social, emotional and practical support. They will keep in touch with you in the weeks ahead.
Our Action Team -  are going to be on point for all practical questions about the church and information. They will also be phoning and emailing members to check up on how we are all doing. See 'contacting Forefront', above.
They will refer some pastoral issues to Christine Smith (and church members may contact her directly). She will respond, refer issues to other members of the Leadership Team, to the prayer teams, or to specialists, as required.
Note that pastoral visits will be conducted (where necessary) on the doorstep, observing the two-metre distancing rule - except in special situations.
See the Church contact sheet for details about how to contact others. If you don't have a sheet, contact Martyna at the Forefront number.
Lord's Larder at Forefront Centre: We are excited to be playing a role in the Chard-wide Covid-19 Support Group. Lord's Larder will be supporting the work of this community response by providing bags of donated food to people who cannot afford to shop for basic food commodities, especially those isolated in their homes. Forefront staff will receive all referral forms (from our normal partner agencies, and from the support group) and process them. Lord's Larder volunteers are making up the bags during the week (working on alternate days with our staff). Small donations can still be made AT THE DOOR on Tuesday and Thursday, from 10.30am to 12.30pm. Larger deliveries are being brought in at other times.
Please pray for Lord's Larder and its volunteers, and for a steady stream of new food resources. Pray for all involved that they maintain their own health. And may this initiative bring the town closer together.
From time to time, we would appreciate some physically-able people who can unload new bulk donations of food when they arrive. Please contact the Action Team if you can help.
Pray
Each Christian is needed now, even if you are unable to leave your home. You are warriors in prayer. Put on your armour while you sit in your armchair (or your home office chair).  This situation is not a shock to God. Though we may be frightened, God is not. He offers comfort and strength, and calls us to offer it to everyone else. Let's be part of the army of prayer against this virus. Let's intercede for the pressure on all health and social care workers. Ask for the protection of those on the frontline.
1 Chronicles 16:11  Look to the Lord and his strength; seek his face always.
Pray for:
The eight members of our congregation who work within the NHS and social care. May God give them strength to face the influx of patients, concerned family members and the mental battle of a challenging, changing, working environment. Pray that God protects them physically and mentally. May they inspire unity and good team communication at work. Lift up their families.
Pray for our member who is working at school to look after children of designated "essential" staff, and for his family at home.
The church's mission in a time when we can't physically be together. May our commitment to one another show our love, and our commitment to God come from a heart of worship.
Various contacts Forefront has with vulnerable people in the community, some of whom are self-isolating and have few financial resources.
The wider churches of Chard, each of whom has a different mix of needs and opportunities in their congregations. Pray for their leaders, and that all the members will stay close to God, faithful to Jesus, and filled with the Holy Spirit, whatever their home and working situation.