...in a time of challenge
Forefront responds to Covid-19
Our third Forecast livestreamed service for Forefront Community Church on 5 April gathered international viewers, with positive comments from Zimbabwe and Canada. Praise God!
We've had to adapt as we have gone along, with partial isolation on week one, near-complete isolation on week two, and greater interactivity through "open" prayer on the YouTube chat on week three.
For more humourous observations from the 180 youth group, in addition to the selection used in our livestream today, see the complete Kerr family contribution on Powerpoint. Meanwhile, from last week's service, you can still see the younger children's pictures of Amos again; download the Powerpoint (19Mb).
Thanks to Phil's mastery of the software and lots of people being willing to contribute, we were able to maintain our commitment to meeting together, and enjoyed another exceptional insight into God Word, and our situation, through the continued exposition of the book of Amos.
The Bible says, "spur one another on towards love and good deeds, not giving up meeting together, as some are in the habit of doing, but encouraging one another – and all the more as you see the Day approaching" (Heb 10:24-25).
Our goal, then, during the Covid-19 crisis, is to encourage one another, and to spur one another on to love and good deeds.
The recordings of each Sunday meeting will be kept on Forefront's YouTube channel, in the ForeCast playlist. If you struggle to remember how to log on to the service, you can always find the video feed embedded in this website, in the menu bar (Sundays - ForeCast). 
Contacting Forefront
For the Action Team (Martyna, Julie, Jane) call the new number, 9am to 5pm,

01392 580021

- the number "follows" whoever is on duty. Out of hours, you can still try this number, or use the church contact list.
Skype them at <

Forefront Community Centre

>
email <

office@forefront.org.uk

>
Life Groups
Life Groups are not meeting physically, but they remain the heart of our church community and pastoral care. Some are using information technology to keep in touch (Skype, Teams etc), while others are ensuring their members get regular phone calls.
We are going to share the best new and creative ideas which each group comes up with, with all the others.  This includes buddy systems to ensure that those who self-isolate get regular contact. Let us know of any encouragements, successful interactions or outreach from your Life Group, and we'll share the news in our Sunday meetings.
Alpha has been interrupted, but members are keeping in touch as though they were a Life Group. We are looking at ways the course might continue virtually, but otherwise it will pick up again later.
Reach out to your neighbours
At the beginning of the year, God led us to declare a vision in which our homes would be mission stations in our neighbourhoods. It wasn't entirely clear to us how that was going to work – but it has become much more obvious now!
Although we can't meet up with them now, other than at a 2-metre distance, we can still reach out to our neighbours. Some of us used the little slips in this PDF attachment to put through people's doors. Print it front-and-back to get three slips to an A4 sheet. Hand-write your name, address and phone number on the dotted lines.
Note that there is a reference to Forefront Church and Community Centre in there (though, for insurance reasons, we are not managing your outreach to your neighbours). Please send Martyna an email to let us know which houses you have made contact with, and where you are asked to provide support. We want to map Chard to see what we are managing to cover. Where people are running out of cash for shopping, you can refer them to the Chard Covid-19 Support Group.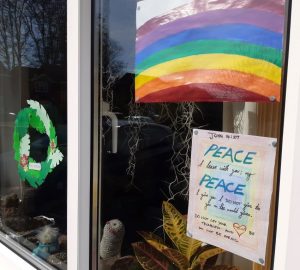 Now we are all self-isolating, consider putting up hopeful messages in your windows. On a sunny day, get out into the garden and sing worship songs. Call your neighbours and tell them you'd like to pray for them. Offer to put them in touch with support if they have critical needs.
Forefront Centre
We are now open Tuesday and Thursday mornings only, 11am-1pm. This is primarily to help people who need Lord's Larder bags. You can pop down for a chat in that time slot, but you will have to maintain the social distancing rules (which probably means, you'll be outside the door!)
At all other times, the staff will work remotely. We aim to have someone contactable by phone, Skype or e-mail, Monday to Friday, 9am-5pm. (See 'Contacting Forefront', above.)
Citizen's Advice are offering their services by telephone and online only. Special arrangements are being made with our clients who hire space in the building. There is information in the window telling people how to get support.
Pastoral support
Your Life Group leaders will be the first port of call for most social, emotional and practical support. They will keep in touch with you in the weeks ahead.
Our Action Team - Forefront Administrator Martyna, and receptionists Julie and Jane, are going to be on point for all practical questions about the church and information. They will also be phoning and emailing members to check up on how we are all doing. See 'contacting Forefront', above.
They will refer some pastoral issues to Christine Smith (and church members may contact her directly). She will respond, refer issues to other members of the Leadership Team, to the prayer teams, or to specialists, as required.
Note that pastoral visits will be conducted (where necessary) on the doorstep, observing the two-metre distancing rule - except in special situations.
See the Church contact sheet for details about how to contact others. If you don't have a sheet, contact Martyna at the Forefront number.
Breaking news
New information every day! Newest material in always in red
This week's ForeCast: Thanks to Abbie, Mike, Ben and Becky, Rhona, Christine, and everyone who joined in through the chat as we went along. You can watch again by usijng this link to our third ForeCast livestreamed on Sunday 4th April.
It's week three of the lockdown, but our spirits are unchained in Christ! "It is for freedom that Christ has set us free!" (Galatians 5:1)
We want to continue hearing from you – if you have testimonies of how God has used you, spoken to you or comforted you during these challenging times, let us know.
Worship
Abbie read from the song Praise You In This Storm, by the worship group Casting Crowns. You can see that song here: https://www.youtube.com/watch?v=MgpaULjZOl8
And she recommended this, as a source of hope and worship: https://www.youtube.com/watch?v=RY4CW5pte98
Colin suggested three worship songs which many of us listened to, and joined in with, before the ForeCast. Keep listening through the week. And if you've been touched by a worship song, why not share with us?
Last week's worship recommendations:
Previous worship recommendations included God I Look To You.
Check out the full version of the Kerr family "tips for surviving lockdown" (truncated somewhat during our ForeCast on Sunday).
Lord's Larder at Forefront Centre: We are excited to be playing a role in the Chard-wide Covid-19 Support Group. Lord's Larder will be supporting the work of this community response by providing bags of donated food to people who cannot afford to shop for basic food commodities, especially those isolated in their homes. Forefront staff will receive all referral forms (from our normal partner agencies, and from the support group) and process them. Lord's Larder volunteers will make up the bags during the week (working on alternate days with our staff). Royal British Legion volunteer drivers will take bags to the homes of those who need them - so there will be no more individual collections at Forefront, to preserve social distancing. Small donations can still be made AT THE DOOR on Tuesday and Thursday, from 11 to 1pm. Larger deliveries are being brought in at other times.
Please pray for Lord's Larder and its volunteers, and for a steady stream of new food resources. Pray for all involved that they maintain their own health. And may this initiative bring the town closer together.
From time to time, we would appreciate some physically-able people who can unload new bulk donations of food when they arrive. Please contact the Action Team if you can help.
Collective events: It's going to be a Sabbath year for many of the usual joint-church events in Chard. The Easter March of Witness and Pentecost Sunday in Forde Abbey won't happen this year. While planning continues for the Summer Holiday Club, unless there is a big change by July, the preparations will actually be for the club in 2021.
Physical Health: The World Health Organisation offers a list of physical exercises for people self-isolating at home (if you are asymptomatic for respiratory disease). Why not try them together in your homes?
Young people: The Rocks & Topz team is providing delightful resources on this website for families with small children, and we are hearing that non-Church families are also taking advantage of the games, crafts, Bible stories and competitions on there. Each one is a post on the 'children' page - Laura provided the first, focused on the "Good Samaritan". Why not let families in your neighbourhood know about it? Laura and Christine are also working on a virtual kids club and a youth group. If your young aren't part of our church children's clubs, but you'd like them to get connected to other children, contact us!
Things to do: It's not only the children who should keep their minds occupied and update their skills. We can all do that! Why not catch up on any Sunday talks you've missed? There are more than 560 available on our Sermon Audio page. Or, refresh your memory about the month-long series on how to study the Bible using four different tools. Harry recommends the new crowdfunded TV series about the life of Jesus, The Chosen. You can watch online or download it to your phone or tablet as an app. Looks like the first episode is free so you can give it a try - they charge after that.
Home schooling? Allow this Israeli mum to vent your frustrations for you!
Pray
Each Christian is needed now, even if you are unable to leave your home. You are warriors in prayer. Put on your armour while you sit in your armchair (or your home office chair).  This situation is not a shock to God. Though we may be frightened, God is not. He offers comfort and strength, and calls us to offer it to everyone else. Let's be part of the army of prayer against this virus. Let's intercede for the pressure on all health and social care workers. Ask for the protection of those on the frontline.
1 Chronicles 16:11  Look to the Lord and his strength; seek his face always.
Pray for:
The eight members of our congregation who work within the NHS and social care. May God give them strength to face the influx of patients, concerned family members and the mental battle of a challenging, changing, working environment. Pray that God protects them physically and mentally. May they inspire unity and good team communication at work. Lift up their families.
Pray for our member who is working at school to look after children of designated "essential" staff, and for his family at home.
The church's mission in a time when we can't physically be together. May our commitment to one another show our love, and our commitment to God come from a heart of worship.
Various contacts Forefront has with vulnerable people in the community, some of whom are self-isolating and have few financial resources.
The wider churches of Chard, each of whom has a different mix of needs and opportunities in their congregations. Pray for their leaders, and that all the members will stay close to God, faithful to Jesus, and filled with the Holy Spirit, whatever their home and working situation.